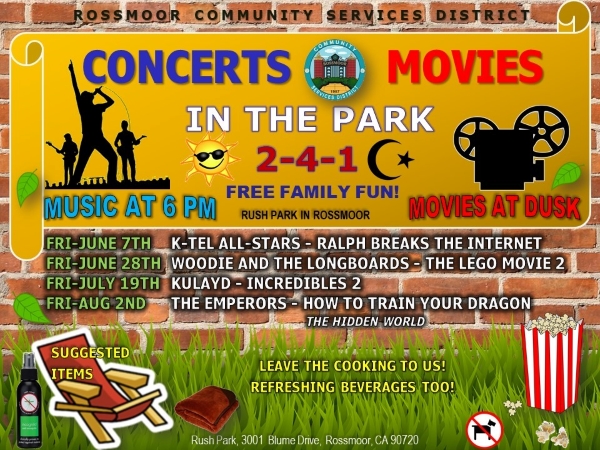 2 - 4 - 1 FREE FAMILY FUN IN ROSSMOOR!

Music and Motion Pictures are born again as twins! Join us beneath the starry summer night skies this June 7th, June 28th, July 19th and August 2nd at Rush Park in Rossmoor. Featuring free entertainment, activities, featured food vendors and family memories that should not be missed. Bring lawn chairs, blankets, flashlights, and insect repellent, we'll supply the rest. Concerts begin at 6 p.m. Movies start at dusk. DO NOT BRING PETS.
FEATURING FRESH COOKED FOOD AVAILABLE FOR PURCHASE
With Special Thanks to our Fabulous Participating Food Vendors!
Rush Park, 3001 Blume Drive in Rossmoor, CA 90720