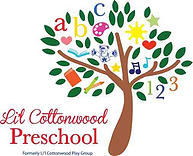 Li'l Cottonwood preschool (formally known as Li'l Cottonwood Play Group) is a parent-participation cooperative that provides the unique opportunity of parents assisting in the classroom. The co-op enriches the student's preschool experience, growth and development by creating a warm, loving parent-supported arena in which to learn.
Li'l Cottonwood operates under the direction of an experienced and well-qualified Teacher/Director and maintains a ratio of one adult to five children at all times. Full enrollment is 15 students per class.
Li'l Cottonwood preschool was incorporated in 1959. The school is licensed by the State Department of Social Services and is a member of the Orange County of Parent-Participation Nursery Schools (OCCPPNS).
CLASS INFORMATION
Juniors
Children ages 3-4 years
(under 3 at discretion of Teacher)
Tuesdays and Thursdays
8:30 to 11:30 am
Seniors
Children ages 4-5 years
Mondays, Wednesdays, and Fridays
8:30 to 11:30 am
Note: Li'l Cottonwood Preschool observes most Los Alamitos School District holidays.